Additional Resources
In Seven Strategies of Assessment Learning, author Jan Chappuis gives K to 12 classroom teachers an incisive look at seven practical strategies structured around three essential questions—Where am I going? Where am I now? and How can I close the gap?
Trusted by more than 525,000 teachers, this ground-breaking series is a must-have for anyone working with English learners!
ATI Resources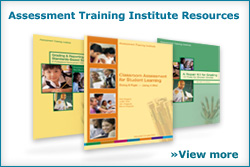 Meet your needs for professional development and connect with nationally known authors and expert consultants. More information...